Algorithmic Arts sells John Dunn's midi software. Many years ago he made a very interesting freeware MAX precursor called Music Box. Apparently you can't get it from him any more, but I have the source code somewhere, so I should link to it. Amy X Neuberg & Men is a self-proclaimed avant-cabaret band. Rajnit Bhatnagar over at Moonmilk is almost done making a different musical instrument every day for the month of February. Many fun ideas here, and a lot of laser cutting. A whole crop of manufacturers and homebuilders of analog modular synthesizers has mysteriously sprung up in the last couple of years. I suspect that some sort of undocumented technology advance is responsible, combined with some Empty-Nest Syndrome (meaning a little extra cash, and an unoccupied bedroom or two) on the part of people of an appropriate age to be nostalgic for these things. Here's the builders and resources I have links to Anti-Math Story plot notation presents itself as a way of pictorially representing stories. But really it's a taxonomy of plot outlines. It's a little bit wacky and half-finished, but might be good for brainstorming opera libretti and such. Aphex Twin Loops is a source of techno samples. The samples themselves are here. (8-bit .au files, unfortunately.) Artifact Recordings releases a whole lot of my favorite contemporary electronic CDs. I've built musical gadgets, both acoustic and electronic, since I was little, so it's always fun when I find out about people who are really good at it, like the authors of these construction projects: Here's good description of how a bunch of guitar Audio effects work, and an Audio Effects Faq with an emphasis on digital implementations. ``AudioMulch is software for real-time sound synthesis, music composition and audio processing.'' Looks like a dataflow programming environment. Supports VST plugins. Shareware ($50 to register, disabling 90 day expiration.) Clarence Barlow's Autobusk is a freeware Atari ST program for real-time probabalistic generation of MIDI events. Clarence is working on a Linux port, and in any case, he includes a pointer to a Windows ST emulator. There's lots of old autoharps and related instruments (ukelins, marxophones, etc.) out there. If you see one you'd like to buy, it might be a good idea to bone up on Autoharp Inspection. Oliver Seeler has a lot of interesting things to say about bagpipes. If you're thinking about outfitting a place to do recording and mixing in, you most likely will have to fiddle with the room's acoustics. Ethan Winer's Bass Trap page has a lot of good information for do-it-yourselfers. Bay Improviser is an excellent resource for and about improvising musicians in the Bay area. Most importantly, it has a tremendous online calendar of Bay Area new music events. Beanbender's was a weekly creative-music concert series in Berkeley in the 1990's. It is much missed, but its web site lives on, courtesy of Dan Plonsey, saxophonist, composer, Garbage Truck operator and Beanbender's principal instigator. Here's a bunch of resources on Digital Signal Processing that have been sitting in my mail for six months: You'll need a bigger HD now! Who knows why I have a link to Big Block 454? But, here it is. Bill Hsu is a computer scientist, an improvising musician and an organizer of the former Beanbender's concert series. Here's a paper about Bol, a computer system for Macintosh by Bernard Bel for composition and analysis, with emphasis on polyrhythms. Here's a system for composing MIDI sequences, describe in a paper by Alin Dorin, that uses Boolean networks (something like cellular automata) to generate rhythmic structure. Has a colorful user interface, and runs on Macintosh. Boomer Bag is a web repository of rhythmic and harmonic fragments. You can listen to the contributions, rate them and submit your own. From thorin!brucee Mon Mar 23 23:18 EST 1992
I'm sure mr cage would approve. [From] today's SMH [Sydney Morning Herald]: On Peter Ross's ABC-TV arts show on Sunday Afternoon, the avant garde composer John Cage was featured performing his 4'33". It consists of the performer(s), armed with a stopwatch, sitting silently on stage for four minutes 33 seconds, with the music consisting of whatever noises come from the audience or outside the auditorium. The TV performance went well, but the ABC was caught out by technology - a fail-safe device turns off studio transmission if there's more than 90 seconds of silence, and puts up a test pattern. It went into operation three times during the performance. This appeared in my email today. "Don" is Don Van Vliet, better known as Captain Beefheart.

FROM: Rene Gemme

Don came to spend a couple days with me at my place ... as usual, he popped some street acid someone gave him ... he wanted something to drink. I reminded him he left his orange juice and various alcoholic drinks in the fridge ... so he wandered into the kitchen, didn't turn on the light because he claimed acid made it possible for him to see in the dark -- like a cat. I could hear him opening cupboard doors, looking for a drinking glass. As I was a bit buzzed on weed myself, it was too much of an effort to tell him which cupboard the glasses were in.

A couple of months earlier I went to a friend's big pot luck Thanksgiving Day bash and my task was to make a big, traditional based yam/sweet potato casserole dish ... I had bought a huge 15 pound bag of yams -- but of course couldn't possibly prepare all of them, so when I finished I put the remaining potatoes, in their net bag, up in the cupboard. I was seldom home then and forgot about the unused pototoes.

Don found the potatoes when he opened the overhead cupboard they were in, while looking for a drinking glass. Any kind of tuber of the potato family, left in the dark for a couple of months, will grow long tendrils while seeking root space and/or sunlight, and that's what almost ten reminaing pounds of yams did, grew lots and lots of two to three-foot long tendrils. When Don opened the cupboard door in the dark, hundreds of long, thin white tendrils cascaded down on him. He let out a shriek like James Brown's opening volley in "I feel Good", but about an octave higher. Seonds later, he bolted out through the kitchen door, ashen, eyes the size of boiled eggs, still screaming and waving his arms franctically. Bits and pieces of severed yam tendrils were flying everywhere and hanging from his hair. A huge cluster had plastered itself to the front of his shirt, another hung from his pocket. He started flashing that he's been attacked by aliens hiding in my kitchen cabinet.

It took me two hours to get him calm enough to understand what happened. By then he was in a full blown "heart attack" mode, one of his frequent panic attacks. ... he had to be transported to the UCLA Medical Center at 4:30 AM where they were becoming well acquainted with him. "Back in town again, Mr. Vliet?" asked the intern/resident who had already dealt with Don on previous occasions. "What is it this time? Another heart attack? Or were you attacked by space aliens?"

"How the hell did he know?" Don asked me, absoutely stunned. "Is he psychic?"

Several times after that, when the topic came up, he asked me not to tell anyone that he'd been freaked out by a bag of yams. because, he explained, 'It's kind of embarrassing. You know what I mean?'

Captain Beefheart has fans. Several of them. I went to the Maker Faire yesterday. Google had a booth where they were demoing Sketchup, their free 3D drawing package. They buttonholed me on my way by and asked if they could draw anything for me. I pulled a half-baked musical instrument design out of my notebook & talked them through making a drawing of it. Here's the result.

It's a Banjo adapted for experimental abuse. Experimental musicians are often interested in coaxing instruments to play unusual, unexpected sounds. Given a stringed instrument like a banjo, an experimentalist will eventually get to the point of setting it down on the table to better work on it with both hands. This instrument goes one better and builds the banjo into the table -- Fred Frith built some tabletop guitars like this in the 1970s. Just for hack value, I replaced the banjo head with a small snaredrum (that idea happened because snare drummer Sean Meehan is coming to play in the Matthew Sperry Festival in June), put a couple of extra sets of strings on it, and used the three-bridge idea to double the number of effective strings. It'd be great if I could get it built before Sean arrives.

Carl builds Tubas and contrabass trumpets. He also has a lot of good information for builders of brass instruments. If you're seriously interested in adventurous music, you probably already know about CDeMusic, who publishes new music CDs and books. They have a download page full of interesting mp3 excerpts. Here's a paper (PDF) about using a chaotic algorithm to automatically generate musical variations. Richard Dobson and John Fitch have written a paper about their experiments with chaotic oscillators. Pianist Sarah Cahill is the organizer of the summer solstice new music event at the Oakland Chapel of the Chimes columbarium. As far as I can tell there's no web site for the event, but I received an email notice from one of the performers:

Subj: Chapel of the Chimes new music event June 21
Date: 5/20/03 9:29:01 PM Pacific Daylight Time
From: healrmn@planeteria.net (Jason Victor Serinus)


Once again, the Julia Morgan-designed Chapel of the Chimes, Oakland California's acoustic and architectural marvel of a columbarium, comes to life with in annual solstice new music extravaganza. Held on Saturday, June 21 from 5-8 pm, the event will include several floors of unusual performers, with perhaps the tamest of the lot being yours truly, Jason Victor Serinus, who will whistle everything from Bach to Berlin, Puccini to Lloyd Weber. Lots of major performers will be here, in intimate settings often breathtaking thanks to their gothic, light-filled, architecture, fountains, plants, and space age acoustic. Some performances are continuous, with installations especially created for the space. There has been nothing like this on the West Coast since John Cage's music circuses of years past. Admission is reasonable. Please mark down the date and come. No advance tix; just show up. This year there will be a map to help you find performers of your choice.

jason

I don't like the idea of making printed circuit boards at home because the chemicals involved are moderately toxic and hard to dispose of legally. But I may have to change my mind. Stephen Hobley has found a simple combination of non-toxic chemicals, available in a grocery store, that appear to do the job. Described here and here.

Found here on Hack a Day.

Chiff & Fipple is The PostStructural Tinwhistle Internet Community. It combines an enormous amount of information about penny whistles with a generous helping of silliness. It's got interviews, how-tos, reviews, Photoshop fakes of national figures, anything you can imagine about six-hole fipple flutes. They have a mailing list, as well. Chris Johnson runs a mastering studio in Bellows Falls, Vermont. Here is his analysis of recording careers of popular musicians, and of how the spectral content of recordings contributes to their commercial success. I've really gotten a bee in my ear lately about the relationship between overcompressed recordings and the decline of the record business. Johnson's analysis is the best I've seen on the subject. Chrysalis Guitars makes the most peculiar guitars I've ever seen. Instead of a wooden box, you get a balloon in a guitar-shaped cage. (The Baschets had this idea in the 1950s.) These modular instruments break down to fit in a small box. And, they're beautiful. (No idea how they sound.)
| | |
| --- | --- |
| CMIX | td Sun Dec 3 17:17:46 2017 |
CMIX is a fairly useful package of routines for editing, processing, and creating soundfiles. It also includes a library of routines designed to make it easier to write C programs to manipulate soundfiles. Paul Lansky wrote the first version and uses it for most of his compositions. Many different processes, from devastating earthquakes to crumpling pieces of paper to magnetizing magnets to glitchy, noisy music, make crackling noises. Here is a pretty good web site devoted to explaining the phenomenon scientificly and simulating it on a computer. The Dactyls of Phrygia are a performing arts group who develop music with traditional and handmade instruments built from salvage. The Dactyls have been playing improvised and original music for over a decade on both homemade and conventional instuments, including the flubaphone, the vestigial organ, the suitcase-lyre, the buffoon, the pick-axe pickaphone, the curlhorn, the clariphone, bones, etc. In April 2006, to celebrate naturalist David Attenborough's 80th birthday, the public were asked to vote on their favourite of his television moments. This clip of the lyrebird was voted number one. A Lyrebird is either of two species of ground-dwelling Australian birds, most notable for their extraordinary ability to mimic natural and artificial sounds from their environment. video here. (Site says it requires Quicktime 6.) David Baker, legendary recording engineer and producer who worked with Frank Zappa, John McLaughlin, Larry Coryell and zillions of others, died on July 14, at the age of 58.

I worked with David in Toronto at the Royal Conservatory of Music's electronic music studio when we were both studying there one summer. In a box in my studio I have the 1/4" master of a tape piece we composed together for a dance troupe. I lost touch with David when he moved back to the US, and didn't realize that the David Baker whose name I saw on all those recordings was the same person (it's a fairly common name, so I thought it was a coincidence) until I saw mention of his studying in Toronto while reading his obituary.

David Cope is a composer and faculty member at UC Santa Cruz, known widely for his Experiments in Musical Intelligence, computer programs that can analyze a corpus of music, identify signature features of the corpus and generate new music exhibiting the same signatures. The effect of digesting a composer's style and producing new works mimicking that style can be eerie. While the programs don't produce masterworks, even making middling Mozart pastiches is a good trick. But Cope's real advance is a better understanding of where style comes from, a first step to effing the ineffible. It looks like "classical music is dying" again, by which the doomsters mean "orchestras are going bankrupt." (And I say, "good riddance", but that's a long, political story best kept for later.) There's a good contrarian summary by Gavin Borchert in Seattle (pointed out by Kyle Gann.) Best quote:
Art rewards an attention span--it's a game for adults. But the classical establishment would rather buckle under to our society's market-driven credo: If white males aged 15 to 29 don't want it, nobody gets it. Incidentally, there is an easy way to attract the young: Program new music. In my observation, between a third and a half of the audiences for the Seattle Symphony's "Music of Our Time" concerts and the majority of the Seattle Composers Salon audiences are under 30. Problem solved.
(Of course it's not "problem solved" if that under-30 audience is in an 80% empty hall, but it's a step on the road.) Brian Dewan's Dewanatrons are gorgeous-looking and sounding electronic music instruments. David Slusser pointed out especially the Swarmatron, a ribbon controlled unison-cluster synthesizer. From slashdot we hear about Dialtones, a composition played by dialing the audience's mobile phones. According to the technical diagram, they installed a microcell site at the concert hall and programmed things so that the conductor could dial selected patterns of phones at will. Do you have a Yamaha DX7? I do, and the battery that provides standby power for its voice memory has long ago run down. When I get around to replacing it, I'll follow these instructions. motherboard.tv, in the second episode of its Electric Independence series, interviews Morton Subotnick about the origins of the Buchla box. Fingerworks makes a touch pad that can sense multiple touches simultaneously. Works with Microsoft/Apple/Linux. Supplied drivers do gesture recognition for keyboard/mouse replacement, but there's a SDK available that will give you raw finger tracks, say if you want to use it for a music controller. The price is $140, which seems cheap. The Scope proved to be a haunt for electronics assembly people from Yoyodyne. The green neon sign outside ingeniously depicted the face of an oscilloscope tube, over which flowed an ever-changing dance of Lissajous figures. Today seemed to be payday, and everyone inside to be drunk already.

Glared at all the way, Oedipa and Metzger found a table in back. A wizened bartender wearing shades materialized and Metzger ordered bourbon. Oedipa, checking the bar, grew nervous. There was this je ne sais quoi about the Scope crowd: they all wore glasses and stared at you, silent. Except for a couple-three nearer the door, who were engaged in a nose-picking contest, seeing how far they could flick it across the room.

A sudden chorus of whoops and yibbles burst from a kind of juke box at the far end of the room. Everybody quit talking. The bartender tiptoed back, with the drinks.

"What's happening?" Oedipa whispered.

"That's by Stockhausen," the hip graybeard informed her, "the early crowd tends to dig your Radio Cologne sound. Later on we really swing. We're the only bar in the area, you know, has a strictly electronic music policy. Come on around Saturdays, starting midnight we have your Sinewave Session, that's a live get-together, fellas come in just to jam from all over the state, San Jose, Santa Barbara, San Diego"

"Live?" Metzger said, "electronic music, live?"

"They put it on the tape, here, live, fella. We got a whole back room full of your audio oscillators, gunshot machines, contact mikes, everything man. That's for if you didn't bring your ax, see, but you got the feeling and you want to swing with the rest of the cats, there's always something available."

Saturday Dec. 1, 10 a.m.–6 p.m. and Sunday, Dec. 2, 12–5 p.m., the 38th Annual Bay Area Fungus Fair, presented by Natural Sciences Department, of the Oakland Museum of California. I'm singing with the Cornelius Cardew Choir on June 21 (5:00 PM to 9:00) PM in the annual Garden of Memory event at the Chapel of the Chimes. Yoko Ono's book Grapefruit, a collection of Fluxus-style instructions for music and art, has been reissued after 30 years out of print. From Rick Groetchen comes this link to an article about silent songs for sale on iTunes. John Cage is standing on a streetcorner, minding his own business, when a policeman comes up to him and says "You have the right to remain silent." From January to March, Humpback Whale season in Hawaii, you can hear them singing, live, thanks to the Jupiter Research Foundation's hydrophone. (Found here thanks to Scot Gresham-Lancaster.)
| | |
| --- | --- |
| Jazz | td Sun Dec 3 17:17:46 2017 |
"There are rumblings, wails and howls like the smarting of a metal pig, the shriek of a donkey, or the amorous croaking of a monstrous frog. The insulting chaos of insanity pulses to a throbbing rhythm. Listening, for a few minutes to these wails, one involuntarily imagines an orchestra of sexually driven madmen conducted by a man-stallion brandishing a huge genital member, The monstrous bass belches out English words; a wild horn wails piercingly calling to mind the cries of a wounded camel; a drum pounds monotonously; a nasty little pipe tears at one's ears; a saxophone emits its quacking nasal sound. Fleshy hips sway, and thousands of heavy feet tread and shuffle. The music of the degenerate ends finally with a deafening thud, as though a case of pottery had been flung down to earth from the skies."

--Description of Jazz from the article "The Music of The Gross" by Maxim Gorky, in Pravda (1928)

The Journal of Experimental Music Studies, a free online journal, has just been launched. Looks interesting. Some links to open-source audio software projects that Scot Gresham-Lancaster sent me a few months ago: A lot of people are uncommonly devoted to repetitive music. Looper's Delight is a web site devoted to their obsession. Their short history of looping music is worth a gander. bremsstrahlung | 2.1 C7 is a record label specializing in lower case sound -- music made from very small sounds. The site design is a lot of fun. Make Noise makes synthesizer modules. Check out Maths. Raymond Scott was a band-leader and popular composer in the 1930's and '40s. He's best known today because his often off-beat tunes were primary source material for many of Carl Stalling's scores for Warner Brothers' Looney Tunes and Merrie Melodies cartoons. Scott was also a techno-buff and musical instrument designer. The work of his musical R&D company, Manhattan Research, is documented in a 144 page book and a pair of CDs. (Also available in Vinyl.) I just heard that Matthew Sperry died yesterday (June 5) in a traffic accident.

Matthew radiated light into every life he encountered.

Scot Hacker's web site has an online memorial.

Here's the announcement I received:

It is with the greatest shock and sadness that I send this message and I am sorry to notify you via email. Thursday morning June 5, while riding his bicycle to work, Matthew Sperry was hit and killed by a commercial truck on the Oakland and Emeryville border. His wife Stacia has asked me to log in and take care of his email account for the near future so I am contacting you because you were in his personal email address book.

It is expected that a service and funeral will be held either Sunday or Monday June 8th or 9th. As soon as the service is scheduled I will send out another email to this list letting you know where and when. More than likely it will be at the Chapel of the Chimes in Oakland. Stacia is surrounded by supportive friends and family. The full impact of this tragedy has yet to fully sink in.

If you are receiving this email in error please reply and I will remove you from this list. I hope to have the details of the service for you by the end of Friday. I do not have much more information than that at this point. Matt will be dearly missed by anyone who had the pleasure of his friendship or acquaintance.

regards,
Elliott Aldrich
Oakland, CA


At the Luggage Store Gallery on June 22 (show starts at 8:00 PM, I'm on at 9:00) I'm performing four solo pieces for electronics (two digital, two analog.) I wrote two of the pieces and two are "chestnuts of the Avant Garde": Earle Brown's December 1952 and Music on a Long Thin Wire by Alvin Lucier. Also on the bill is Neo-Realist (George Cremaschi, bass/electronics, Liz Albee, trumpet/electronics, ma++ ingalls, clarinet/electronics.) Jonathan Segel pointed out this link, to the diary of an anonymous recording engineer, who for the last 8 weeks (and counting) has been working on the debut album of a band that the record company gave a $2M advance to. It's a hilarious story of enormous and desperate egos in a disfunctional business -- the record company needs a gigantic hit, the band hates each other, nobody can work together, the producer's nephew and the bass player's girlfriend are surrepetitiously overdubbing the best parts on the record.

Update: starting last week, they've been auditioning new drummers. So the anonymous engineer is on hiatus. In the interim, Lance, the producer's nephew (and assistant engineer and bass player pro tem) has taken over diary duty. His writing's not as interesting, but it feels like he's building up to something...

The mixerman chronicles, previously mentioned here, having been on hiatus for a couple of months, have resumed! Product announcement at Gear Junkies. Last Saturday (December 7, 2002) ACME Observatory presented a concert of early FLUXUS works, curated by Gino Robair.

I performed George Brecht's Three Aqueous Events, by frying ice cubes on an amplified (contact microphone taped to the bottom) electric griddle, and Dick Higgins's Danger Music Number Fourteen, both of which appeared to go over very well.

But the real excitement happened off-stage. Morgan Guberman planned to perform Ken Friedman's Stamp Act, which involves rubber stamps and a nude model. So he put out a query for a model on craigslist, and got two replies. The first one sent him a second message the next day saying "what was I thinking, I just broke up with my boyfriend and wasn't in my right mind and I'm sorry I led you on", but the second said her name was Bibiana Padilla Maltos, she was a big FLUXUS fan, had performed Stamp Act before and would fly up from Calexico, CA (or Mexicali, MX, I'm not quite clear on that detail) for the show. As show time approached, she hadn't shown up and Morgan spent a lot of time pacing anxiously. Several of us suspected that someone was pulling Morgan's chain, but he kept saying "she called me a few minutes ago, she just got off the plane, she'll be right here". Then a couple of people showed up claiming to be her friends, adding to the suspense. Finally, just as we were getting started, she appeared! It turns out she's for real, confirmed by a google search. She and Morgan did a great job of Stamp Act.

Side note: one of the unwritten rules of performance art is you don't want to follow the naked lady, so of course, my two pieces were scheduled right after Stamp Act. (Fortunately, the naked lady effect was diluted by an intermission.)

Also on the program were a couple of La Monte Young compositions (Composition 1960 #7 and Piano Piece for David Tudor #1.) Saturday morning, we received the following email:
Dear Tom Duff and Gino Robair,

It has come to our attention that you have programmed one or more works by La Monte Young on a concert to be hosted by Gino on Saturday, December 7 at 8:15 PM, at TUVA Space, 3192 Adeline at Martin Luther King Jr. Way, Berkeley, CA, presented by the ACME Observatory.

We would have appreciated being contacted by you in advance of this presentation. La Monte prefers to work with musicians who are going to perform his work, which is obviously not now possible in this case.

La Monte Young's works are copyrighted and it is necessary to obtain a performance license from us. According to the announcement in the Bay Area NEWMUS-EVENTS digest 1131, you plan to perform "Piano Piece for David Tudor #1," from 1960, which was announced as: "Feeding hay to the TUVA piano!"

Please provide us with the titles of any other works of La Monte's on the program so we can issue a performance license. A licensing fee of $100 is usually required for performances of each of La Monte's compositions of this type, depending on the circumstances. As Acme Observatory Contemporary Music Series is supported by grants from the Berkeley Civic Arts Commission and anonymous donors, we assume this concert has some funding.

We realize this request is reaching you very late in your planning and we are willing to work with you toward a positive resolution, but we received the information extremely late also.

With best regards,

La Monte Young Marian Zazeela
MELA Foundation, Inc.
275 Church Street
New York, NY 10013

Of course, we can't afford fees like this at all. Our grant from Berkeley is $2500, with which we do about 30 concerts a year, we took in $61 at the door, and we rent TUVA for $100 a night, so if we gave Young $200 we'd be about $150 short on the night, which the aforementioned "anonymous donors" would have to pick up. ("Anonymous donors" is a euphemism for "you can't make money doing what we do. On the other hand, you can't lose that much either, so rather than not do it, we cover the difference out of our own pockets.")

So probably we should have contacted him (it never occurred to me -- most experimental composers get little enough attention that they're happy about any sort of performance), and maybe we could have negotiated an agreeable rate, but there was no time, so we dropped his pieces from the program. Tough for us (I blew a couple of weekends programming my laptop, trying to make an idiomatic, compelling interactive version of Composition 1960 #7), but tougher for La Monte. He missed out on a performance at what turned out to be a very good show, and there's not much chance we'll ever program him again. But I guess he needs us as much as we need him.

Here's a bit of newsreel footage of Harry Partch at Mills College in 1951. Hosted at archive.org, pointed out by Wobbly and Tom Djll. Unit automatically becomes portable when carried. The Electronic Frontier Foundation has devised the Open Audio License as a legal tool that ``allows artists to grant the public permission to copy, distribute, adapt, and publicly perform their works royalty-free as long as credit is given to the creator as the Original Author.''

``If you are a musician, band, or other artist and you want your creative works to be experienced by the widest audience possible and touch the hearts and minds of the greatest number of people around the world, the EFF Open Audio License allows your fans and supporters to market and distribute your work through viral marketing that creates attention and adds value to your identity. You can also help build a common pool of creative expression that can be accessed and improved upon by all of society.''

On October 19, I'm performing on the opening concert of Palais Idéal, an experimental music festival in Chico, CA. The concert is at the 1078 Gallery in Chico, starting at 6:00 PM. Also on the bill are a Palais Idéal documentary, Faulouah, Chaos Butterfly, 2P1B and Ross Hammond.

Link to the Palais Idéal schedule.

Paper Circuits, hand-drawn musical circuits for home assembly. On Mar 12, at 21 Grand, Matt Davignon organized droneshift, four hours of drone music by a shifting cast of characters, including me. There's pictures at Peter Kaars web site.

Me, tweaking my laptop: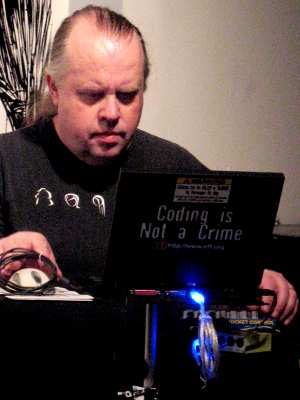 The grand finale, with me in the middle ebowing my banjo (& using a Coricidin bottle slide, just like Duane!):


Here's a review by William Osborne of one of the last shows at the Art Rattan space in Oakland, featuring Fuzzybunny, John Bischoff, Abbie Conant and Tom Nunn. I was at this show -- it was a wonderful. Revolution 9 remains one of my favorite pieces of music. Here's an analysis from Chile, Alan W. Pollack's Notes, a description of an Alternate Take, more notes at beathoven, and at Steve's Beatles Page. Here's another analysis Moe Staiano's Rock Lotto is back for the fourth or fifth time. Moe put the names of 29 volunteers (incl. me) in a hat and picked names to make up 5 bands. We had a month to put together a 20 minute set of (mostly) original music. And we're all performing on Sat. Dec. 15 at the Fishtank (3405 Piedmont Ave, Oakland) starting 8:00 PM. Details here. It's a benefit for 21 Grand, which really needs the money right now as they run the Oakland zoning and permitting gauntlet.

Our band, officially BAND 2, but really the Flesh Eating Beatles includes
Bob Marsh, vocals
Ron Lettuce, keyboards and sax
Micaela Peterson, drums
Matt Davignon, drum machine
Errol Stewart, guitar
Tom Duff, electric bass
Our tunes are half psychedelic, half punk.

Here's the lineups for the other bands:
BAND 1:
Steve Dekrone, Drums
Dave Bartels, Guitar
Tim Walters, Bass
Mark Stickman, Voice, flute
Salane Schultz, Keyboards, Accordion
Chris Broderick, Reeds
BAND 3:
Thomas Scandura, Drums
Bill Wolter, Guitar
Jeremy Kearney - Bass
JoJo Razor, Voice
Moe! Staiano - Mini Paia keyboard, Roto-toms
Alicia Byer - Clarinet
BAND 4:
Aaron Wagner, Drums
Groovy Judy, Guitar
Craig Demel, Guitar
Wilson King, Bass
Allen Whittman, Voice
James Goode, Electric trumpet, etc.
BAND 5:
Steve Weems - Drums
Mark Briggs, Guitar
Sebastian Krawczuk, Bass
Dominique Leone, Voice
Parisa Muller, Flute
Rokkaku is the piece I'm working on right now for the Cornelius Cardew Choir. I wrote it because the choir, while improvising, often makes sounds that make me think I wish we could do that on purpose. So I wrote down descriptions of some of my favorites, and made up a structure to tie them all together.

The piece is organized as a parable about corporate management. The choir is divided up into a three level structure. In line with American management tradition, the names of the levels are extremely important, suggest authority way out of proportion to duties, and only peripherally relate to what the people actually do.

Upper management (the Superconductor) does strategic planning and tries to direct a corps of middle managers (the Semiconductors) to carry out the plan. The middle managers try to turn the directions they get from upper management into specific instructions for the workers (Nonconductors, i.e. the singers.)

But the managers are not really in control. They can communicate their instructions only by waving flags. The singers are given only the vaguest of instructions on how to interpret the flag waving, and in any case, the workers get to pick and choose whether to work (sing) or not at any instant, and which manager to follow.

I got mail today from Scot Gresham-Lancaster about his first solo CD:

Subject: "Orchestrate Clang Mass - anagram" - the first CD release on OCM publishing

Hello everyone,

I am trying a new experiment in self-publishing that I am hoping you will participate in.

If you go to:

You will find a pointer to a CD compilation of some of the live interactive music I have done over the last decade or so.

Cafepress.com offers an individual the chance to put an audio CD and accompanying "shwag" up online and so I am taking advantage of this service.

I have been involved in many different CD projects;

http://www.o-art.org/Scot/sgldiscography.html

However, the opportunity to release a solo CD of my work has never worked out. I have always been too financially on the margins to make the $2k investment that a full CD production required, until now.

This CD is dedicated to the memory of my good friends:

Joe Catalano

Jim Horton and

Tom Dougherty

I hope that some of you will enjoy it.

Teenage Engineering announces the OP-1, an extremely compact, high-feature digital musical instrument.

Teenage Engineering - OP-1 @ NAMM 2010 from Neil Bufkin on Vimeo.

Here's an extensive bibliography of books and papers dealing with temperament and tuning, with hundreds of entries ranging from Ptolemy to Brian McLaren. It also includes (at the bottom) many links to online tuning resources. Jonathan Segal sends a link to a paper by AG Langner of TU Darmstadt, about how we perceive pitch and time, with implications for music perception. 4'33" mentioned in a sequence of three comic strips. Zac Bond, a self-confessed nonmusician, has started a weblog devoted to listening through every Cage recording he can find. David Slusser dug up this quotation:
I see little of more importance to the future of our country and our civilization than full recognition of the place of the artist.

If art is to nourish the roots of our culture, society must set the artist free to follow his vision wherever it takes him. We must never forget that art is not a form of propaganda; it is a form of truth. In a free society art is not a weapon and it does not belong to the spheres of polemic and ideology. Artists are not engineers of the soul. It may be different elsewhere. But democratic society--in it, the highest duty of the writer, the composer, the artist is to remain true to himself and to let the chips fall where they may. In serving his vision of the truth, the artist best serves his nation. And the nation which disdains the mission of art invites the fate of Robert Frost's hired man, the fate of having "nothing to look backward to with pride, and nothing to look forward to with hope."

I look forward to a great future for America, a future in which our country will match its military strength with our moral restraint, its wealth with our wisdom, its power with our purpose. I look forward to an America which will not be afraid of grace and beauty, which will protect the beauty of our natural environment, which will preserve the great old American houses and squares and parks of our national past, and which will build handsome and balanced cities for our future.

I look forward to an America which will reward achievement in the arts as we reward achievement in business or statecraft. I look forward to an America which will steadily raise the standards of artistic accomplishment and which will steadily enlarge cultural opportunities for all of our citizens. And I look forward to an America which commands respect throughout the world not only for its strength but for its civilization as well."

-John F. Kennedy
Tim thinks I should make a piece about the sounds that telephones make when they ring. Tonepad provides free resources for DIY musical electronics projects, and a source for parts and PC Boards. Ubuweb has announced a free online reprint series Ubu editions

Quoting from their announcement: "This year's titles range from the visually sophisticated Concrete poetry of Gustave Morin, a native of Windsor who spent 10 years on his "novel" A Penny Dreadful, to an obscure volume of satirical translations of Baudelaire by the English poet Nicholas Moore, from the experiments in frame and format that Caroline Bergvall and designer Marit Muenzberg explore in their daring resetting of the poet's Eclat, to the equally daring, if entirely unscrupulous, logorrhea that is the 130 pages of another "novel," Name, by Toadex Hobogrammathon."

Griffin Technology makes a very nice, if pricy, controller knob called the Powermate that plugs into a USB port. It's a beautifully machined, free-standing aluminum knob, with a glowing blue base (looks sharp, and makes it easy to find in the dark.) I've been looking for a good-feeling, cheap rotary controller for a long time, and while this isn't it (at $45, I can't justify a dozen of them), at least it's got the good-feeling part right. Mmm, vocoders.